Available Commission Types: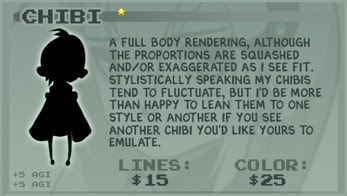 All right, time to open up for commissions!
I'm currently working on some private projects for some folks which are going to take precedence, but I'd like to open the floor for chibis as well. Unfortunately I can't dive into any larger commissions this time around (busts, waist-ups, full body CG).
As always, in advance, many thanks for your support. : )
I'm going to borrow some bullet points from my ever effervescent `
Zombiesmile
to clear some initial things up.

TO CLAIM A COMMISSION SLOT
simply send me a note asking for what kind of commission you want, and if at all possible, some reference of the character you'd like done. If I respond to you, you got the slot! I'll let you know my paypal address and we'll get things started. If I don't respond, come around the page now and again, a slot might be open later on!

Personal use only
These commissions are only for personal use. The creative rights belong to me unless otherwise stated in a written contract. (this does not mean your character belongs to me. Only the image created.)

Prices are per character, Paypal only!
But if you plan on ordering 3 or more, prices are negotiable. If you are going to request more than one chibi, though, payment needs to be in full. This is to avoid having folks ask for multiple chibis down the line and be surprised when they no longer have a slot.

Just a reminder!
I reserve the right to cancel your commission at any time due to unforeseen circumstances. If you have already paid, a FULL refund will be provided regardless of progress already made on the commission. In the slim chance that this happens, I will be keeping you in mind for the next round of commissions I take, and reserving a slot for you should you still be interested.

If you are unsure about anything, please ask me via note or comment, I am more than happy to help.
Available Slots:
1. <closed>
2. <closed>
3. <closed>
4. <closed>
5. <closed>
6. <closed>
7. <closed>
8. <closed>
9. ~
Ise-san
(3) <paid>
10. <closed>
11. <closed>
12. <closed>
13: =
viralremix
(TBD)<paid>
Thanks guys! Oh, and thanks a crapton for all the responses on the last journal, my playlist has grown a couple miles long since then. Hahah.
(Oh and.. nobody on here would happen to play on Zatoishwan server in Dofus, eh..? If you see any folks with the Gokiburi-gumi title above his/her head wandering about Astrub, say hello why doncha. ;D)



===========